No matter what you've heard or read, your appearance matters a lot. Women admit that they look for confidence and the way a person looks when they are looking for a partner. The way you dress, the styles you try on your beard and hairstyle play a major role. Even if you think you are an ugly duck, a little confidence and proper grooming can make you the most desirable man in the room.
The fashion world is ever-changing and is evolving as we speak. There are overwhelmingly numerous styles out there for everyone. It all comes down to choosing the style that suits you the best. Getting the right style changes your appearance for the better and boosts your confidence to the next level. As we mentioned earlier, women find men with confidence attractive, but before that, the right hairstyle brings you attention.
It doesn't matter if you are bald, or have long or short hair. There are several styles out there for you to explore and pick. Groomed right, even baldness can be of advantage. We brought together the best 15 hairstyles that women find attractive on men. Let us see which style suits you the best.
1. The Undercut 
The undercut hairstyle is a classic one but has been on trend these days. This versatile and most attractive hairstyle gives a handsome appeal to men. It shows a clear disconnection between the backward-swept top hair and the sides and back portion. It is well suitable for youth with short, medium, or long hair. 
2. The Buzz Cut
A buzz cut gives a bold look with a uniform length of short hair all over the head. This portrays a wonderful and enhanced wider facial appeal. Its low maintenance and easy styling process give busier men peace of mind. The touch-up with a modern fading and stylish stubble beard makes it more attractive. 
3. Short Crew Cut 
This gives military and crew hairstyle appeal with a more visible side hairline. As the hair is short, men will have a neat look, so attractive to ladies. Younger college-going folks having fine and thin hair will have a better appearance by this short crew cut. 
4. Even and Short 
If you want to get drawn to women's special looks, you can try this even and short hairstyle. It shows evenly cut hair that is combed sideways, yet looks spectacular! This one cherishes a nice makeover for younger and middle-aged men too. 
5. The Quiffy 
A unique combination of the pompadour hairstyle and the mohawk hairstyle! Here is the voluminous front hair that looks special from the remaining portion. Being combed sideways, it looks distinctive. You can apply a hair spray and hair conditioner to get a glossy appearance. 
6. Natural Curls 
Natural curls bring an incredibly cute, fashionable, and professional look as well. The short and medium curls of the short and medium hair hang over all through and sway with air. Yet, the nice curls remain less frizzy by proper care with anti-frizz hair care essentials. 
7. The Pompadour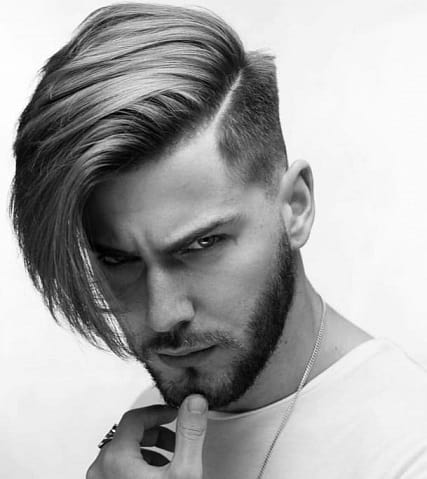 The pompadour hairstyle gives a gorgeous appeal to men's faces with short hair on the sides and long hair on the top. The sideward longer funky hair looks sharp and attractive. It seems to be voluminous and bulky and never deviates from the women's eyes. 
8. The Side Part
The side part hairstyle is another versatile cut for men that ladies like. The special side parting of the hair and sideways neat combing give a decent appearance. It's the best flaunty hairstyle for college guys, business folks, and many celebrities with small, medium, or long hair. 
9. The Low Fade Cut
This shows a distinctive low fade cut style with a superb distinction between the side and top hair. With a clean or low shade fade, the curly hair over the front and top looks fascinating. As the natural medium-sized hair curls are black, the low fade seems to be more visible. 
10. Brushed Forward
An iconic men's hairstyle with which you can flirt with women! It's similar to the Quiff style but the entire hair lifts upwards instead of the forelock. The front brush-up appears more fascinating, trendy, and handsome. 
11. Bald Head
Many celebrity icons have had this iconic hairstyle. Without a single hair strand, this bald head draws attention to your best facial features. The accompanied pure black long beard gives a more handsome look. A timely grooming routine maintains long-lasting baldness! 
12. Hipster Fade 
The hipster fade, the more popular style of pop culture, flares even today. Though there's a mild bald at the side, the back-brushed hair shows a speculative look. So, even middle-aged men can look younger with this superb hairstyle provided there is smooth hair maintenance with hair spray or cream. 
13. Layered Long Round 
Lucky enough for long hair! A mid hairline separating the longer hair sideways creates a distinctive hairstyle. The varied hair lengths right from the head, through ears, and shoulders look superb while swaying over. It gives a charming younger appearance with hair all around the head and an added French beard style. 
14. The Short and Straight Hair 
This easily manageable short and straight hair gives a great appearance upon better taming. A solid and neat comb-over makes one look neat and handsome. An added beard and mustache styling enhance the facial appeal.
Conclusion:
It is our responsibility to take care of ourselves. It is about time you gave a thought about how you like it. Your hairstyle defines you and it is totally on you to get the right haircut that elevates your charm. Through this article, you are introduced to some of the best hairstyles that are currently in trend. Use this list as a reference and give yourself a remarkable makeover.